News from January to March 2018
Mr Stefan Voorman and Mr. Peter Klapheck, the secretary and the Treasurer of Somedi Nettetal, Germany and Mr. Ronnie D Mello, a friend of DSWC from Mumbai visited Damien Social Welfare Centre (DSWC), Dhanbad on 4th and 5th January to be the part of Mobility Camp sponsored by Somedi Nettetal organized by Damien Social Welfare Centre and conducted by Ratna Nidhi Charitable Trust, Mumbai.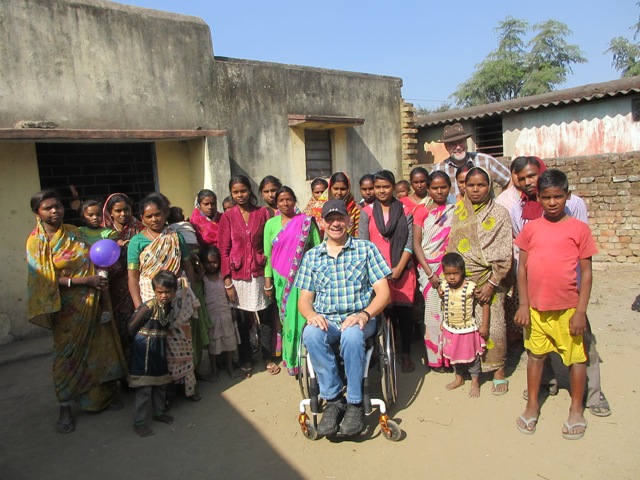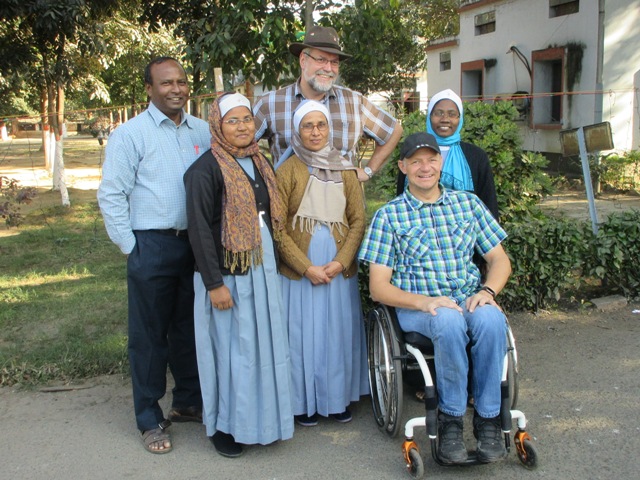 On 21st February Mrs. Maria Cabal, and Mr. Gerado Martin from Manos Unidas, Spain visited Damien Vocational Training Centre (DVTC). We had a small welcome program for the guests at DVTC itself. After the program, they went around the training center and appreciated the facilities DVTC has. Fr. Bipin honoured the guests with Shawl prepared at our rehabilitation centre viz. BRTC. Mr. Aloysius, the Principal briefed them about the training center.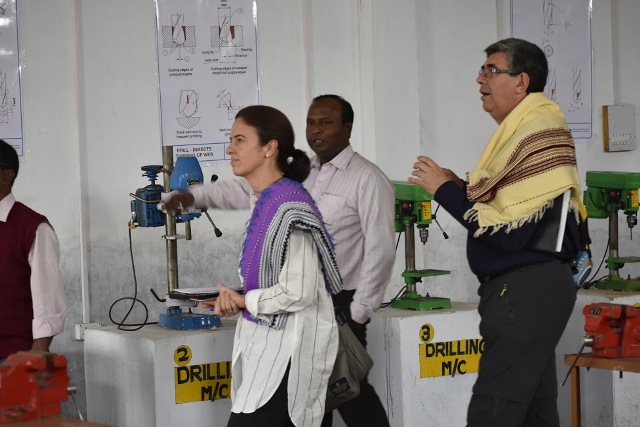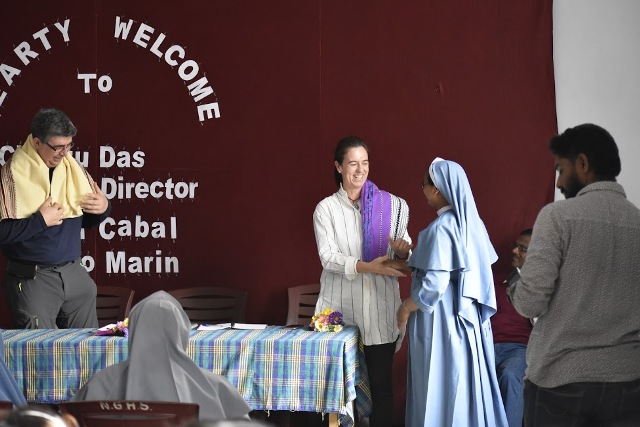 Nirmala School:
On 20th January Inter group Speech competition held at Nirmala School, so that the oratory quality of the students could be developed. The topic for the Speech competition was "The Great Leaders of India". Sir Xavier Jojowar conducted the Speech competition with lot of jokes and shayari. Sr Sheetal from Mission Hospital, Burgarh, Pradeep Bhengra from Damien Vocational Training Centre, Kaladih and Bro Navin from Dhobatand Parish were the judges for the competition. Sanjana Sharma Class VII girl from Prem House, Shishir Rakshit class VIII boy from Shanti House and Aqsa Arafat class IX girl from Shanti House were 1s , 2nd and 3rd successively in the English Speech from Senior Group, Riay Kumari Class VIII girl from Shanti House, Reena Rai class VIII girl from Satya House and Chhaya Ghose class VIII girl from Shanti House were 1s , 2nd and 3rd successively in the Hindi Speech from Senior Group, whereas in the Intergroup category Kalpana Jaiswal Class VII girl from Shanti House, Nagesh Iman class VII boy from Prem House and Kiran Kumari class VII girl from Shanti House were 1s , 2nd and 3rd successively in the English Speech, Arati Mahato Class VI girl from Shanti House, Sonu Thakur class VII boy from Satya House and Muddasir Nazar class VII boy from Prem House were 1s , 2nd and 3rd successively in the Hindi Speech and in the Junior Category Arati Kumari Singh Class IV girl from Satya House, Vinay Kumar Vishwakarma class V boy from Satya House and Mousami Das class V girl from Jyoti House were 1s , 2nd and 3rd successively in the English Speech, Ankita Dutta Class V girl from Shanti House, Menka Rajwar class V girl from Jyoti House and China Mahato class V girl from Satya House were 1s , 2nd and 3rd successively in the Hindi Speech
On 23rd January students of Nirmala School participated in dance competition organized by Govindpur Nagrik Samity on the occasion of birthday of Netaji Subhas Chander Bose. Reena Roy a girl from class VIII stood first in the solo dance as well as students from Nirmala School grils stood first in the group dance. Hats off to all of them.
On 26th January 2018 Damien Social Welfare Centre celebrated 69th Republic day of India at Nirmala School, Govindpur. Mr. Bramha Dev Laroia, was the Chief Guest and Mr. Vijay Khanna, Executive Director, Carbon Edge, Gujarat and Mr. Alok Agarwal were the Guest of Honours of the function. Children performed march-past, sang patriotic song, performed dance, drill, and a tableau on Bhagat Singh.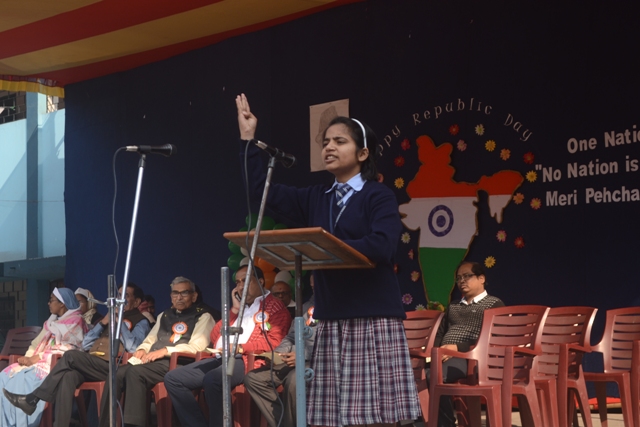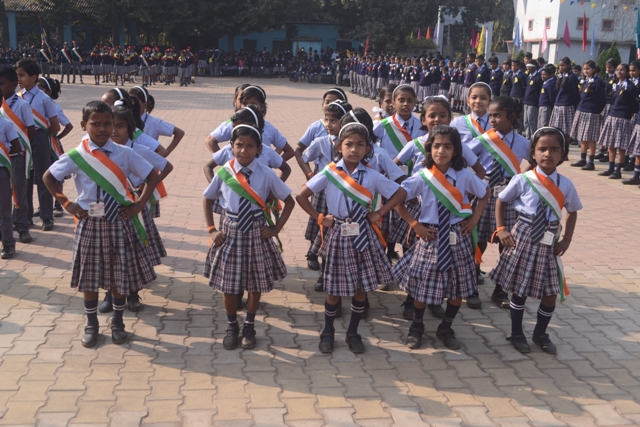 Sanjana Sharma, the student of Class VII delivered English Speech and Jasmin Praveen of Class V delivered Hindi speech. Students were given prizes for different competition held in the past. In his speech the Chief Guest congratulated the children for their beautiful performance and thanked the school management for their hard work behind this performance. He also said that if India has to go ahead every citizen has to take their own responsibility.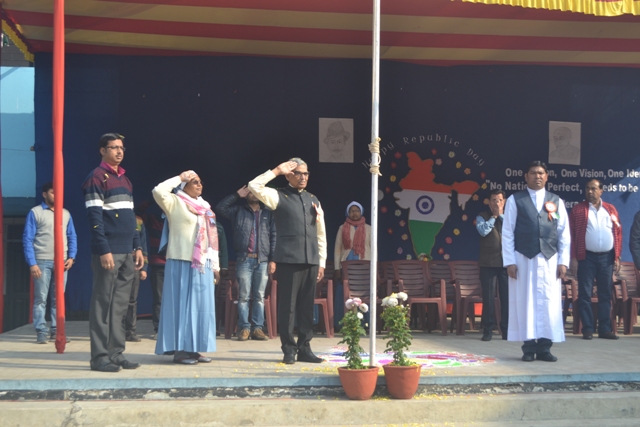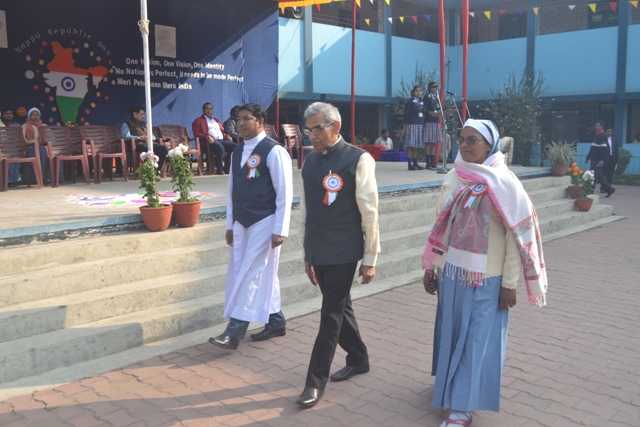 Quiz Competition: Quiz Competition held at Nirmal School on 7th February. It was an open Quiz competition. All the students from class I to class IX, who were present on the day, were encouraged to participate in the competition so that their Knowledge on various subjects could be tested. Questions were asked from their main subjects of the said class. Results were announced on 10th February.
Karate Belt Grading: On 18th February 65 students took part in Karate Belt Grading test in Nirmala School itself. 32 students received Brown Belt, 11 students received Maroon Belt, 17 students received B;ue Blet and 5 students received Green Belt.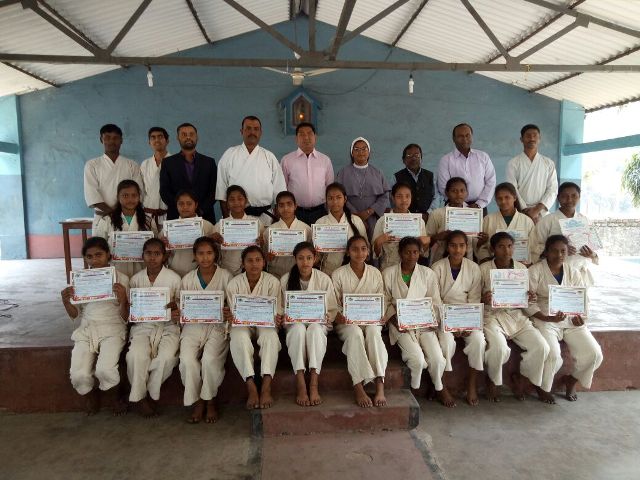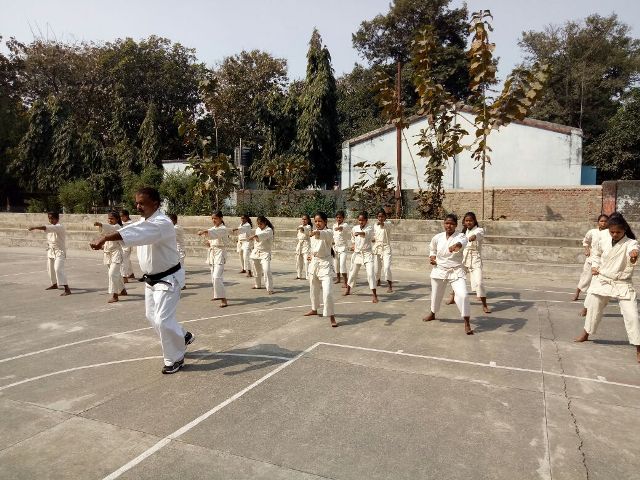 Staff Excursion: Like every year this year to Nirmala School organized an excursion program for the teachers on 24th February so as to give them a break from their normal busy schedule. They began their journey to Bodhgaya, the place where Gautam Bodha received enlightenment, began as early as 5 in the morning. Teachers visited all the temples and saw the famous Banyan Tree, where Gautam Budha sat for the meditation. It was joyful and memorable day for all the teachers.
Excursion for the Ninethers: Like every year, this year too students of class nine had an opportunity to visit Jamshedpur City, pride of Jharkhand. This year they began their journey towards Jamshedpur on 14th March. They made a small halt at Purulia, where they had opportunity to visit Science City and then proceeded to Jamshedpur. Entire 15th March was spent in Jamshedpur visiting Jubilee Park, Xavier Labour and Research Institution (XLRI), Bishop's House, and Dimna Lake. Some of the students were visiting the city for the first time. Most importantly they were travelling together for the first time. It was a wonderful experience for the students.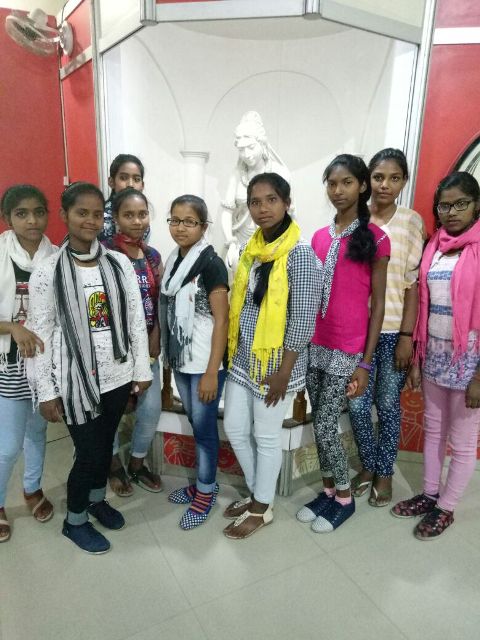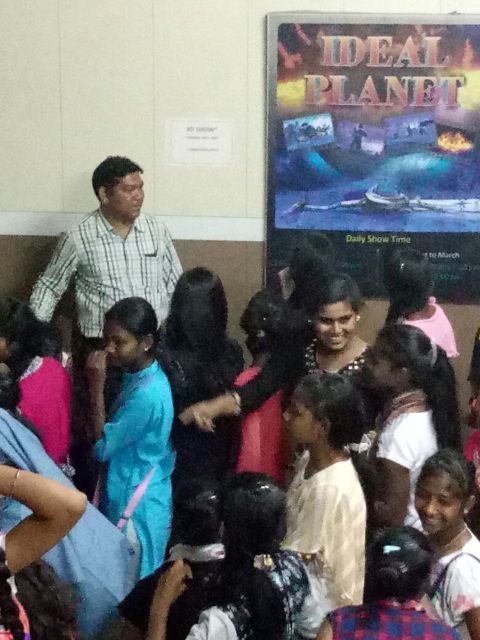 Seminar for the Teachers: One day Seminar for the teacher was organized on 17th March 2018. Mr. Sandeep Dey, the Principal St. Thomas School, Topchanchi and one of the members of School Managing Committee, Nirmala School, was the resource person. The topics for the seminar were Method of teaching, Lesson plan, part of child psychology and system of CBSE system. He conducted the seminar with various case studies, group activities and lecture method. He also taught the importance of flip charts and its impact on students. Though it was a long day starting at 9 in the morning and ending at 6.30 in the evening, yet teachers were all energetic throughout the Seminar. Teachers benefited a lot from the seminar.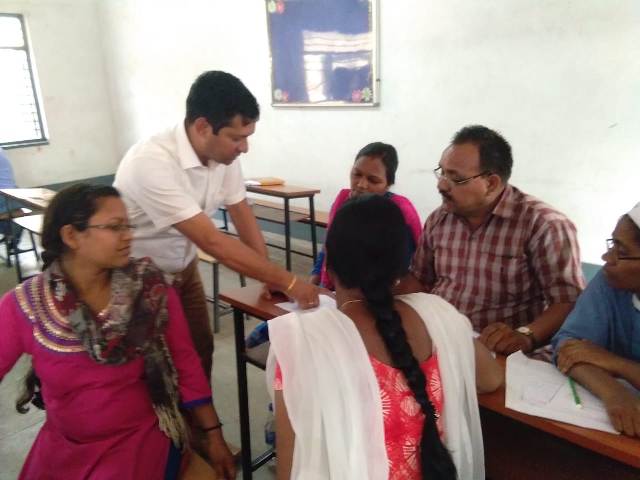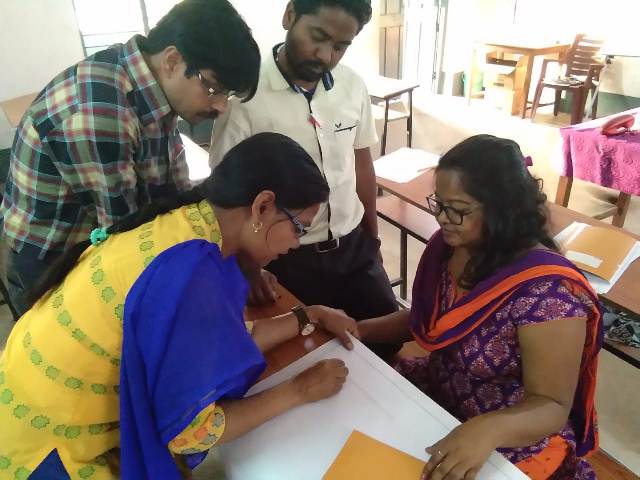 Jharkhand Basketball tournament: From 30th March to 1st April 18th Junior Basketball tournament took place at Delhi Public School, Dhanbad. 22 boys and 15 girls basketball teams participated in the tournament. Annu Oraon and Anjali Mahato from Nirmala School played for Dhanbad district team. Due to bad weather Final for the Girls' team could not take place. East Singhbhum and Dhanbad Girls' Basketball team were declared joint winners. Annu Oraon was judged as player of the tournament in the girls section.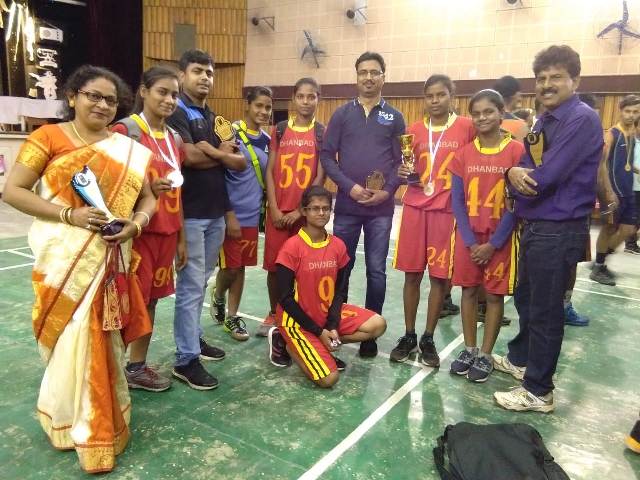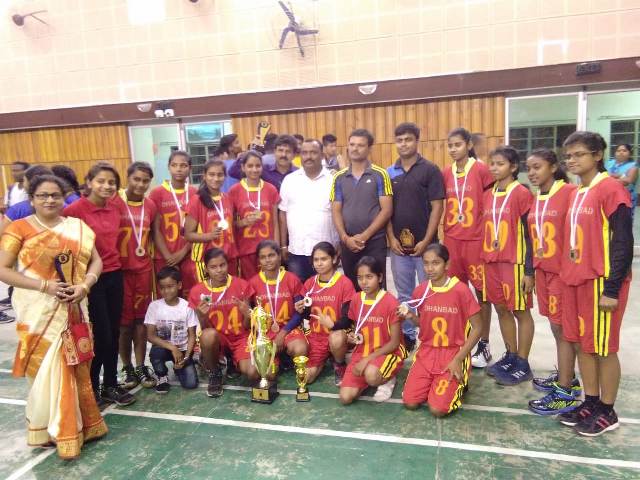 Nirmala Hospital:
Mobility Camp: On 4th and 5th January Mobility Fitment camp was conducted by Nidhi Charitable Trust, Mumbai and sponsored by Somedi Nettetal, Germany. It was the follow up camp of screening camp held in November 2017. 117 people received hearing aid, 19 people got Caliper, 45 people received crutches, 65 people benefited with artificial limbs for below knee and 2 persons got artificial limb for hand. Thanks to Dr. Ganesh and Dr. Sharma, who helped us in ENT deficiencies. Thanks to all the nursing students, who were all the team present for the camp,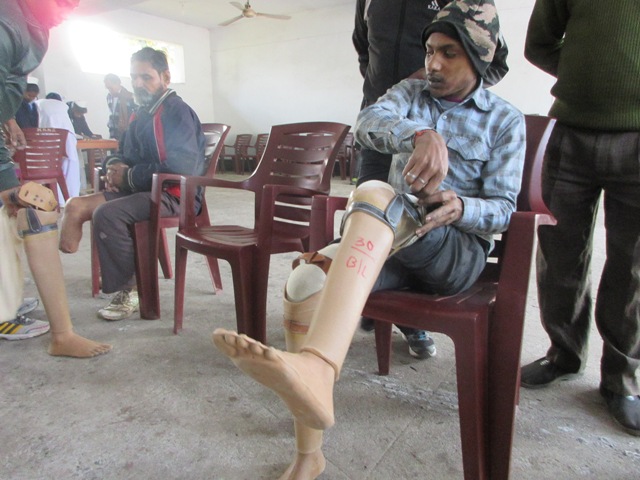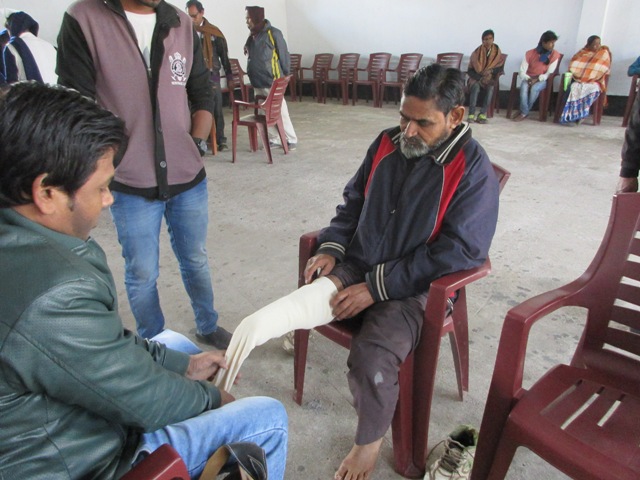 Reconstructive Surgery: From 12th to 16th February Reconstructive Surgery took place. Dr Jacob Mathew from DFIT, Chennai was conducted RCS. Dr. Jayant from Astha Hospital, Barakar was assisting the Dr. Jacob Mathew. 13 patients (2 for Eye, 1 for foot and 10 for hand) benefitted from RCS.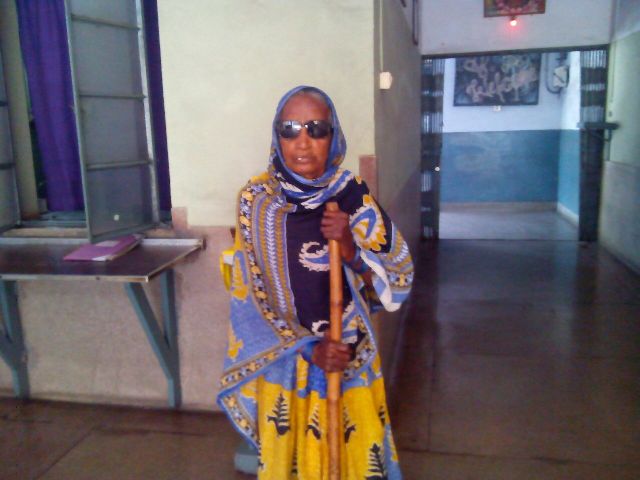 In last three months Nirmala General & Leprosy Hospital conducted 3 camps. On 16th February a combined camp on Eye, Dental and Skin was organized at Topchanchi. 103 patients with eye deficiency, 16 patients with dental problem and 35 patients with skin problem were attended by Dr. Sonal, Dr. Utam and Dr, Manohar.
On 25th February ENT-cum-dental camp was organized at Nirmala Hospital, where 51 ENT patients and 14 dental patients benefited. Dr. Sonal for the dental cases and Dr. Ganesh and Dr. Prem Shanker for the ENT cases came for the camp.
On 20th March the third camp was organized in Association with Health World, Durgapur. Dr. Hardik Rajguru, the Neurologist had come for the camp. 37 patients suffering from different neuro ailments benefited from the camp.
Cataract Operation: 25 patients under went for cataract operation. The cataract operation was conducted on following dates 24st January, 7th February, 22th February and 14 March. Dr. conducted the cataract operation. From 13th February to 16th February 13 patients underwent Re Constructive Surgery conducted by Dr. Mathew Jacob from DFIT, Chennai.
In the meanwhile hospital had 2143 skin patients, 200 eye patients, 90 dental patients, 9 ortho patients were given treatment. We also had 14 MB patients and 2 patients from Dhanbad, whereas 18 MB patients and 03 PB patients from outside Dhanbad were given leprosy treatment.
In last three months survey team has reported detection of 1 Female adult with MB case and 9 (1 male adult, 6 male child and 2 female child) PB cases.
Nirmala Nursing School:
Clinical Experience: 15th January onwards 2nd year students started going for the clinical experience to Park Clinic and JIMS hospital.
Capping ceremony of 1st Year ANM students took place at premises of Nirmala School, on 7th February at 10.00 am, when 16 ANM students of 4th batch of Nirmala Nursing School received their uniform and took oath to serve the community with dedication. Dr. Asha Ekka, Civil Surgeon of Dhanbad was the Chief Guest. Besides them we had Mr. Sangeeta Karan, Dr. Sanjeet Karan, Dr Rokey Singh, Dr. Nishikant Tirkey, Dr. Amit Kumar Singh and Dr Dwedi were the special guests for the day.
Service witnessed: All the nursing students started their visit to the different institutions serving poor and destitute persons from 16th March on wards. On the first day they visited Dhanbad Blind Relief Society, a school for the blind persons and Jeevan Jyoti, a school for the special children. On 17th March students went to Baramsia Rehabilitation and Training Centre (BRTC) and on 19th March they visited Water Purifier and Supply plant, Bhelatand. They also had opportunity to observe the dedicated work of Mother Teresa's sisters at Nagnagar. They gained lot of experience by visiting all these centers.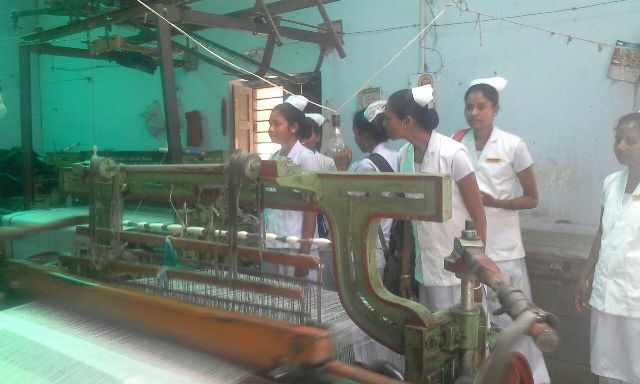 Damien Vocational Training Centre:
Skill Development Program:
In collaboration with TS SKILL AND TECH Private Limited, DELHI, Damien Vocational Training Centre (DVTC) started a 3 months long skill development training for young boys and girls of Jharkhand. This training is financed by Jharkhand Sill Development Mission Society (JSDMS) and is running under the direction of Rubber Skill Development council. The youth are supposed to attend four hours theory classes at DVTC and then for on job training they need to go to Spice (Rubber Industry) close to NHAI office on NH II. After the training every youth, who has 100% attendance would get a job at Rubber Industry itself earning Rs 7000/- to Rs 8000/-. We started this training on 9th January.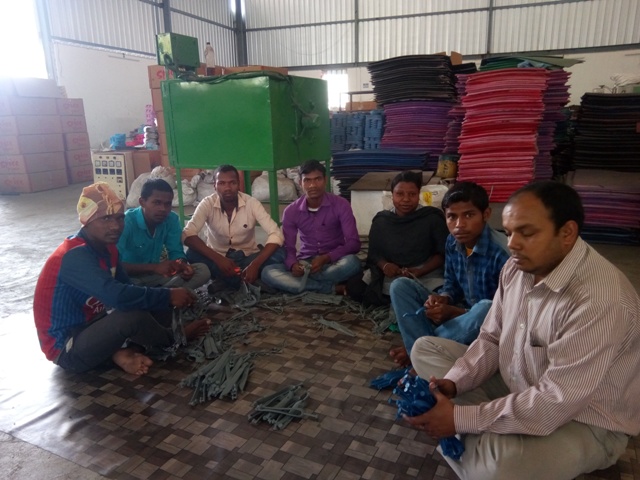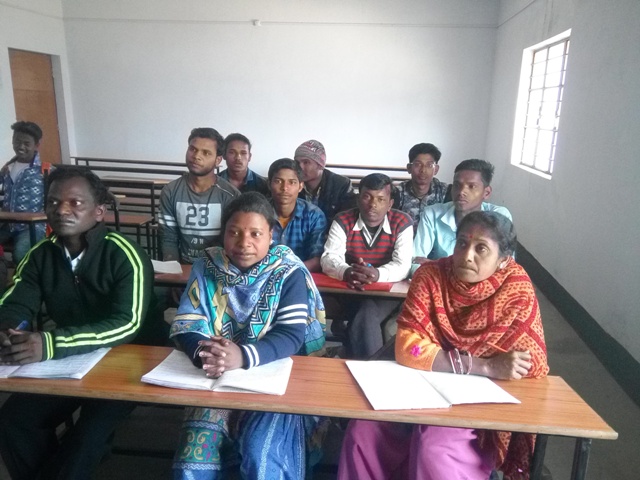 Our first batch students of Fitter five of them and Electrician six of them wrote their first Semester Exam (session 2017-2019) from 29th January to 6th February. This exam was conducted under the guidance of Director General of Training. Our students had to go to Dhanbad ITI for the theory exam.
RPL by Don Bosco: With the help of Don Bosco Tech, Ranchi, DVTC conducted two days i.e., 23rd February to 24th February Philips Recognition of Prior Learning (RPL) Certificate training. There were 30 participation from Philip company, who are working at Philip company since long, but do not have any certificate. With this training Don Bosco upgrades the competence of the participation as well as gives recognition to all the learning the participants already had prior to the training. All the participants received training kit and tool kit as well as at the end of the training everybody received a certificate of participation.